---
---
Easy-Cutter is the revolutionary 2-in-1 knife and cutting board that chops and slices your favourite foods in seconds! The secret is the 2-in-1 clever design with ergonomic power pressure handle, to effortlessly cut through food fast! 
Chopping and slicing is the single most common activity in food preparation. Now, with Easy-Cutter it's so simple and quick you'll be chopping like never before!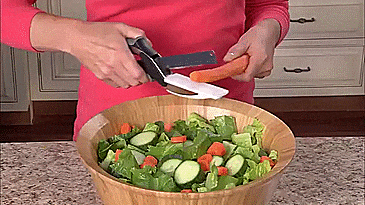 The chopping board is a staple of any kitchen. But when the chopping is done, you have to transfer all that loose food into a pan or dish, right? MESSY!  what if the food was already there as soon as it's chopped? What if the chopping board and knife were an all-in-one amazing slicer that cuts as quickly and easily as scissors and lets the food fall right where you need it?

Easy-Cutter does just that!
The spring-loaded handle keeps the cutting jaw as wide as possible in the open position to allow a rapid chopping action. To slice and chop with Easy-Cutter, you just squeeze down, again, and again, and again!
Vegetables, fruit, sausages, potatoes, even French bread. Just hold the food in one hand and Easy-Cutter in the other, then feed and chop. Easy-Cutter makes short work of food preparation that used to take up time and create a lot of mess. Now you can chop onions faster than a pro! Ingredients for salads, stews, casseroles and soups can be sliced right into the pot in seconds! Then just rinse under a tap and store your Easy-Cutter away until the next time you need it - it won't be long!
But that's not all! Easy-Cutter comes apart! Just remove the blade section by unlocking the hinge, and it becomes a single super-sharp kitchen blade for larger food items or carving meat.

If you've watched, with envy, as chefs and show-offs slice through food like a machine, now you can get out your Easy-Cutter and show them what high-speed – no mess chopping really looks like! Easy-Cutter puts the blade AND the board right in the palm of your hand!
Limited Quantity Available
Not sold in shops
OUR 5 POINT CUSTOMER PROMISE
:
FREE Tracked delivery for every order.

24/7 customer support. Please contact us if you need assistance.

Safe payments via Credit/Debit card and/or PayPal.

A full warranty for 1 year.

A "no returns needed" policy -  which means that if you have an issue with our product, we'll simply replace it for you - no questions asked and no need to return the item to us.
---